Asprova SCP
Objects for which data input/output is allowed for each module
---
Overview
Asprova SCP is used to make procurement schedule, production schedule and delivery schedule of supply chain in overall perspective according to demands, customers, DC (Distribution Center), factories, suppliers.
Characteristics
Modeling of supply chain
There is a sample of supply chain described as follows for Asprova SCM. There are many sites in the supply chain from the bottom to top in followed graph, such as sales department (customer), DC, factory, supplier and so on. The sites are connected by delivery resource, such as truck, boat, airplane and so on. There are several levels between factory and DC. There are warehouses with red down arrow in followed picture used to store the inventory in factory and DC. Material C is input into factory F3 and F4 to produce intermediate B. The intermediate B is input into factory F1 and F2 to produce product A1 and A2. The product A1 and A2 is delivered to customer by two level DCs. The production condition and the delivery condition between supplier, factory, DC and customer are entered into Asprova SCM.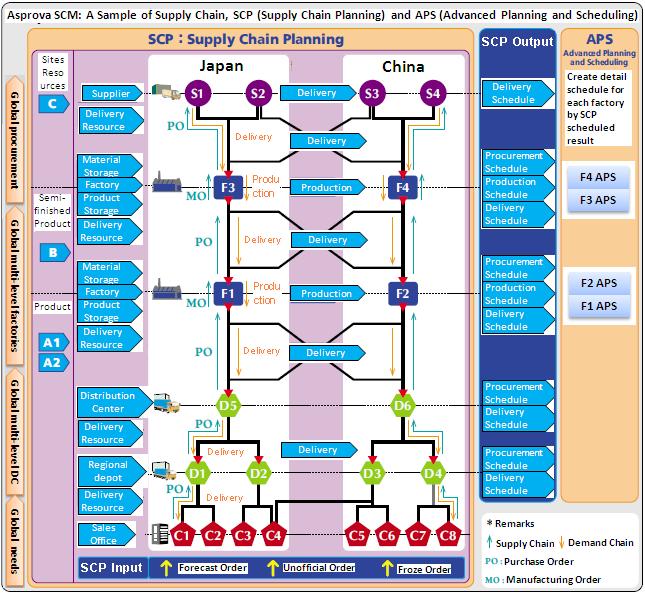 SCP input info
Enter the demand (order) from the bottom of supply chain into Asprova SCP. There are forecast order (18 months), unofficial order and fixed order, the accuracy is increased in stages. These data can be entered into Asprova SCM manually or imported from outside system, such as ERP and so on.
SCP operation and constraint condition
Enter the demand of each site from the bottom to the top of supply chain. Asprova SCM will make a flex scheduling along the time axis when the demand quantity is exploded. So the purchase order for inventory supplement or manufacturing order is generated automatically. The start time and end time of production, the start time and end time of delivery can be calculated. This is the supply and demand chain. The supply capacity, production capacity, delivery capacity and other constraint conditions are considered in SCP.
SCP output info
SCP outputs procurement schedule, delivery schedule and production schedule.

Make more detail production schedule for each factory by APS
Based on the production schedule output from SCP, every factory can make more detail production scheduling with Asprova APS and you can output the work instruction for each process in factory.
Remarks
---
HelpNo.:10001000
©2016 Asprova Corporation, All rights reserved.