Default value
Default value is used if the property is not specified with a value. Default value is displayed in the property definition window.
Using default value can save memory. Refer to Saving Memory Usage.
To distinguish against other properties, the state of default value is marked with green in the table/property window.

Default value with expression type
If the default value is an expression type, a long name is shown instead of the expression.

Default value with enum type
If the default value is an enum type, internal string is used.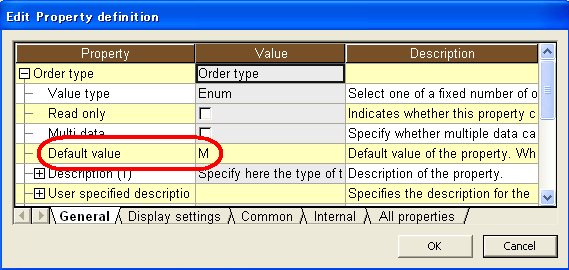 Export default value
When a property using the default value is exported, the exported value is null, as the value is not actually specified.
If you want to export the default value, open the "Data I/O Settings" table at first, next open the "Field mapping" column, then double click the left side with number of outside exported table.
Finally set the "Export default value" property as "Yes" in the "General" tab of "Edit field definition" window.
To know more about how to export default value, please refer to Data IO Overview.
---
HelpNo.:743230
© Since 2018 Asprova Corporation, All rights reserved.