Progress dialog
---
Progress dialog is displayed during rescheduling, import, export and so on.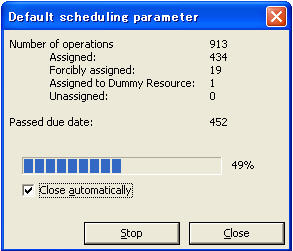 Stop current action
To stop the operations being assigned, click the "Stop" button on progress dialog when operations are being assigned during reschedule.
Assignment cannot be resumed from the remaining unassigned operations after clicking the "Stop" button. The next time the project is rescheduled, it will start from the beginning again.
Close
If you click on the "Close" button, progress dialog will be closed. The scheduling still continues even after the progress window is closed.
---
HelpNo.:737950
©Since 1994 Asprova Corporation, All rights reserved.