User Registration Information dialog
---
Displays the User registration information specified in the protector (followed dialog print screen come from the Version 7.3.0). Displays the user registration information specified in the protector.
For Network license server (NLS), the license info from NLS is displayed. Please refer here to find out how to get the license info.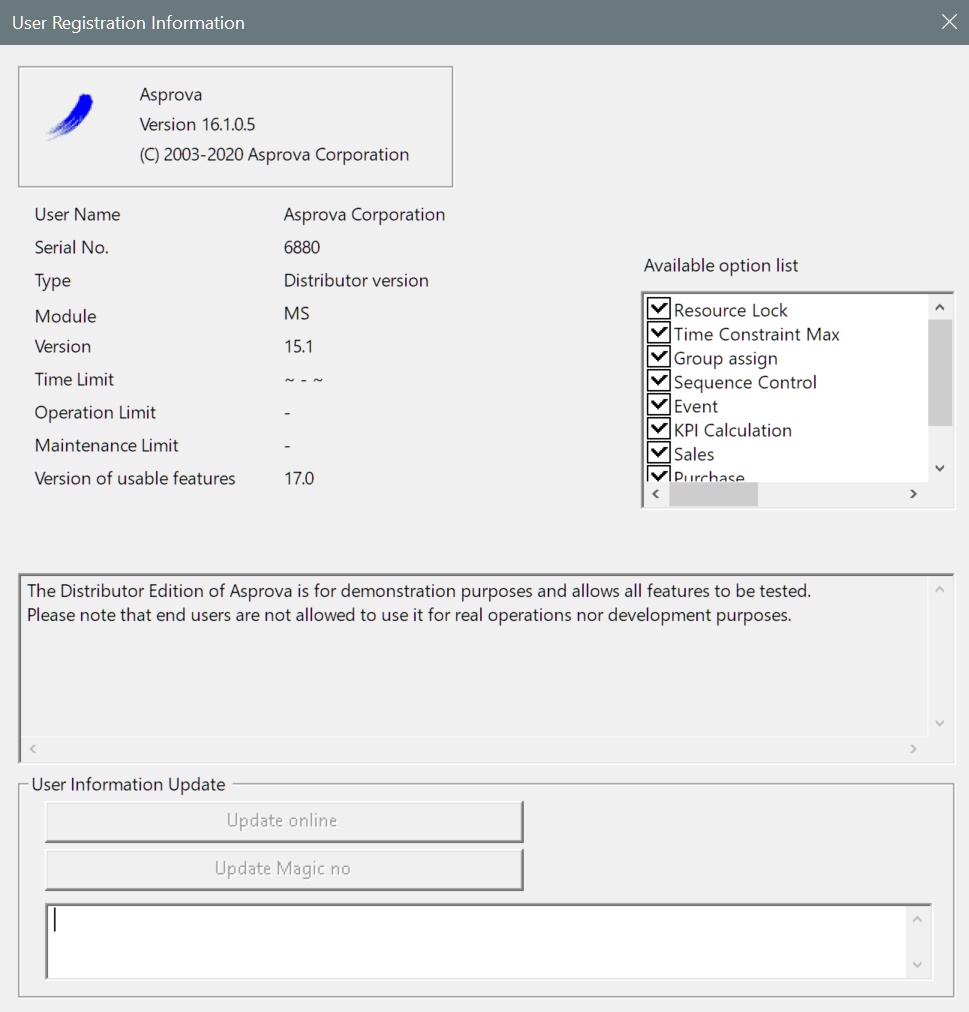 User Registration
User login name or company name.
Serial No.
This is a unique number assigned for each individual license.
Type
Complimentary, Demo, Trial, Experience versions
Module
Product name (Module type).
Version
The version which can work under current license.
Time Limit
Displays the time limit period. If there is no time limit, nothing will be shown.
Asprova cannot work if time limit is up.
Data Size Limit
MAX operation qty. If the total operations of the account exceeded the MAX limit, Asprova cannot reschedule.
Maintenance Limit
Displays the date of maintenance limit. If there is no maintenance contract, then it will not show any date.
The features of the Version that can be used depends on the maintenance contract period.
Version of usable features
Displays the usable New features (restricted features) according to the license version and maintenance limit.
Available option list
Displays the available options.
Optional features can be checked or unchecked in free/trial/demo version. When unchecked, the unchecked option cannot work. (All available options are selected in Complimentary version and cannot be unchecked.)
When MS Light is selected from Module type dialog, the available options related with MS Light is also selected and cannot be unchecked.
In default situation, all options are checked in free, trial, demo version. When building the prototype, someone might use the unknown option. So please discuss which option is needed or not before purchasing the license.
Message
If the maintenance limit is exceeded, detailed messages related to the license will be displayed here.
Update user info
When maintenance contact is updated, time limit is extended, or new option is added, Asprova's distributor or Asprova corporation will send the magic number to the customer.
This magic number is to be applied to here. For details, please refer here.
Validate backup protector method
For more information about the backup version protector, please refer here.
---
Protector before Ver.7.3.0
Before Ver.7.3.0, the protector is displayed as follows.
The usage is the same as above.
---
HelpNo.:737800
©2017 Asprova Corporation, All rights reserved.