Command Select dialog
Register the planning parameters and command calls for customizing menus, tool buttons, and various hooks.
Use the following table to edit scheduling parameters and to register commands to custom menus, custom tool buttons and various hooks.
Launch from the right-click popup menu "Insert command".
Scheduling Parameter table
Custom Menu table
Custom Tool Button table
Processing Hook table
Table Hook table
Chart Hook table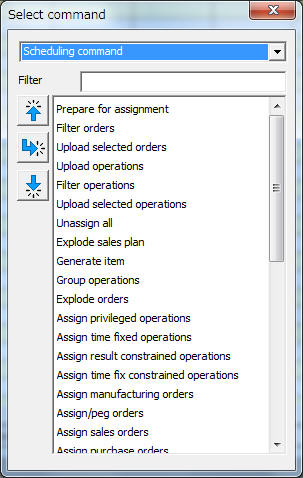 Using the three buttons on the left, insert it above or below the selected command or as a child of that command.
You can also insert a command by double-clicking it.
---
HelpNo.:730100
© Since 1994 Asprova Corporation, All rights reserved.