Initial Setup Dialog
---
The following Initial Setup Dialog is to be displayed when a project is newly prepared.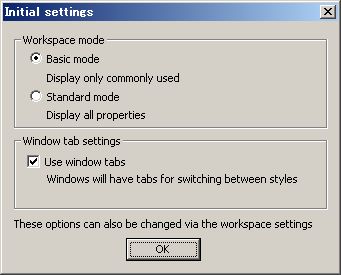 Operation Mode
You can select either the "Introductory Mode" or the "Standard Mode."
For an operation mode, please refer to click here.
Window Tab Setup
You can either enable or disable Tab View for the style on the window.
When a check mark is placed, the tab displays the style on the table.
When a check mark is not placed, the tab does not display the style on the table.
Existing windows
Allows enabling or disabling the reuse of existing workspace windows.
The above options can be changed in the workspace settings later on.
---
HelpNo.:726500
© Since 1994 Asprova Corporation, All rights reserved.