Object window
---
The object window displays the objects existing in Asprova APS. The Root Object, which exists only one in Asprova APS and is the source of all objects, is displayed at the top level. Below the root object, other objects are displayed hierarchically.

* The object window is usually not displayed. To display the object window, select [View] - [Object Window] from the main menu.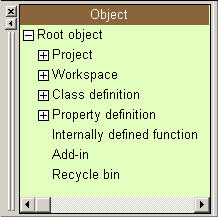 At one level below the root object, the following objects exist:
Zoom
Clicking on the object window and rolling the mouse wheel with holding down the Ctrl key will display the object window at a different zoom factor. If the mouse does not have a wheel, you can change the zoom factor by specifying a value for the Zoom property in the properties window.
Popup menu
Right-clicking the mouse on each area of the object window invokes a corresponding popup menu.
---
HelpNo.:659000
© Since 1994 Asprova Corporation, All rights reserved.